Duplex Blinds or Duo Blinds or Vision Blinds are the latest modern design blinds in Dubai on the market for roller blinds. The two alternate transparent and dim-out strips gives a sheer blinds look when all align to the transparent stripes. Obviously protect the privacy when its all aligned to the dim-out stripes.
          In addition, they are also known as Zebra Blinds, Vision Blinds, or Day and Night blind depending upon the supplier.
          Made from horizontal stripes a non-transparent and translucent woven stripes alternately. Above all, the construction enables the fabric to transmit light. In particular as the two translucent fabric line up, one behind the other, light passes through both fabrics. The Duplex/Duo blinds are called as double roller blinds also.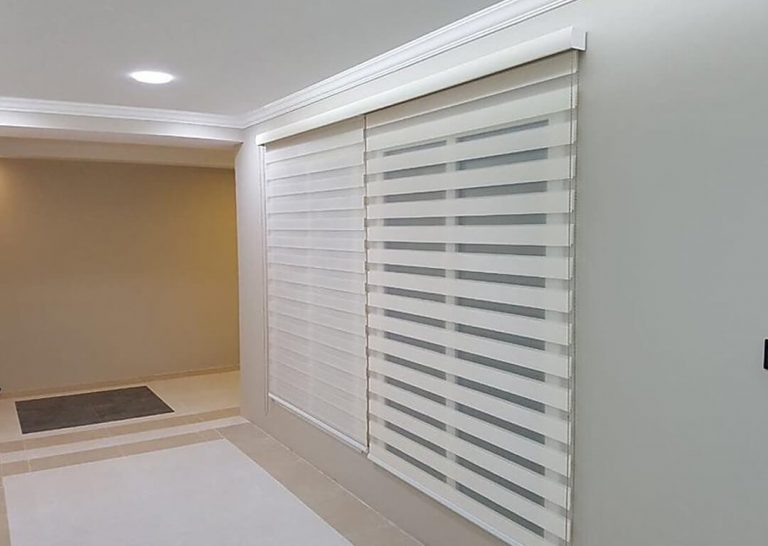 Two layers vision blinds slide past each other when pulled up or down using a chain. The front layer moved independently of the back and the stripes glide between each other which can give the appearance of the blind being opened or closed.
          In effect, the duplex blinds fabric filters and softens daylight. At the same time, the privacy option is available with these blinds.
          Although the white chain is a continuous loop comes as a set length for zebra blinds. For this reason, on long windows, the chain may be too short. However, other chain options ensure that this is not a problem.
          Consequently, the silver chain together with the gold chain allow for varying installation heights. At the present time, this ensures the cord length comply with vision blinds safety.
          Henceforth, duplex blinds can now be motorised using the Somfy one touch motor system. As a result, this option ensures no cords can pose a danger to children.
          The materials commonly named as fabric used in 99 blinds duplex blinds in Dubai are very high quality and durable for long lasting operation. All of our products are sourced from professional factories worldwide, offering the largest online selection of fabrics.
          99blinds are popular for the duplex blinds or zebra blinds in Dubai for may years, with wide range of available collection high level of easy to use control, complete privacy, aesthetics, and comfort.