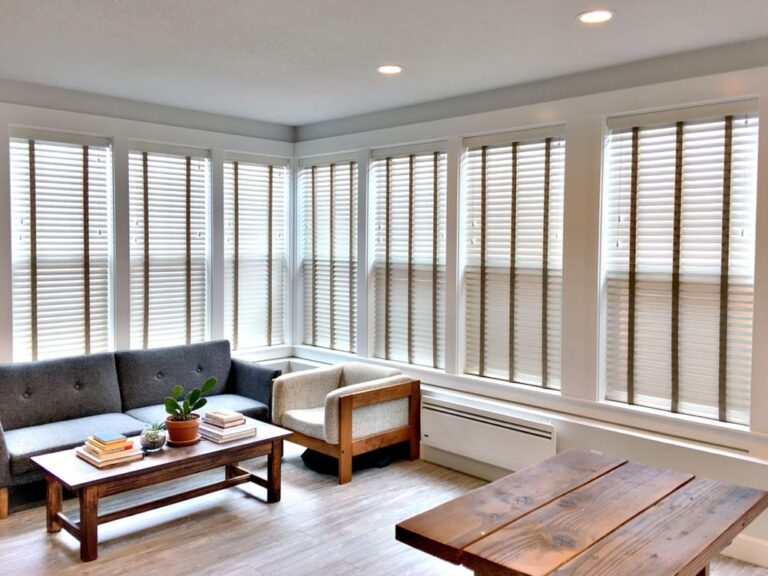 Window Wooden Blinds In Dubai
       Wooden window blinds or Venetian wood blinds are manufactures from real wooden slats or faux wood slats. Most house owners use wooden blinds for windows as window treatments for a house's handy natural look.
       The real wood or wood finish painted wooden blinds or faux wood blinds match exactly or create a contrast color with your existing wall and furniture presents in a room. We proudly proclaim that we have finished installing more than thousands of wooden shades in Dubai for houses, apartments, villas, and office premises.
       The luxury of wooden window blinds is they horizontally stack at the same distance. They complete a room's privacy by tilting the slat to a close position of and when in an open position, they allow entering the light and air into the room. Most importantly, we can control the exact light amount entering a room by positioning the Venetian wood blind slats.
GET FREE HOME CONSULTATION
       Our Venetian wooden blinds are easy to operate and durable for long-lasting. The components we use to produce wooden curtains for windows are high quality. We use the same color ladder tape and functioning cord, and headrail to make it a more natural finishing appearance.
       The ladder tapes made to measure wooden Venetian blinds coordinate with the colour of the slats or in a contrasting colour for a stunning visual effect. The ladder tapes used for the long and smooth operation of the window treatments
       99 Blinds offers endless color, texture, painted finish, and pattern for horizontal Venetian wooden curtains for windows. The most popular window wood blind is 50mm Venetian white wooden blinds in Dubai. However, the 25mm wooden blinds also famous for the inside installation of a window recess. All of our wooden window blinds are custom-made to measure.
       Our faux wood blinds are painted to add the finishing touch of real wood to your rooms. 99Blinds offers you faux wood Venetian blinds at an affordable price. Furthermore, it provides complete openness and moisture protection. That is why faux wood blinds are a convenient choice for kitchen and bathroom windows.
       Having the horizontal wood finished Venetian blinds on the bedroom window, living room and the dining area window will be the luxurious idea.