Why Should One Choose Vertical Blinds As Window Blinds
          Vertical blinds in Dubai, 99 Blinds offers in various option, as well as in mechanism and also in a wide range of fabric colour and texture collection. It allows maximum coverage of large windows at a cost-effective option. Office vertical curtains are the most popular window coverings due to their low cost. A sunscreen or blackout fabrics are used to make vertical shades slat. These slats can be tilted about 180 degrees to control the light and privacy. Vertical shades are very light-weight and easy to operate.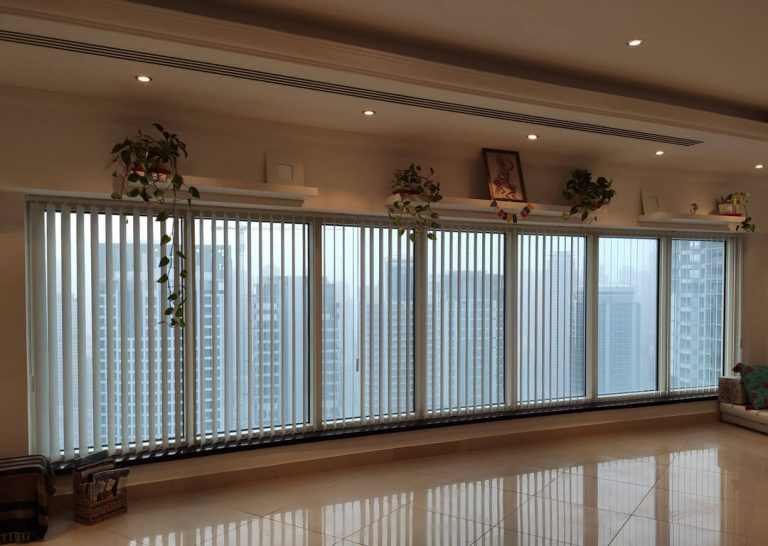 Our Vertical Blinds are one of the most adaptable window blinds as they are intended to modify in any size, shape and they can supplement any inside stylistic layout be it residential or business.
           The usefulness of our vertical shades  is additionally an extraordinary selling point as it permits you to move the vertical slats out of your way and offer you a component where you can tilt or modify the vertical vanes to permit light filtration or square it. With our wide scope of shades, patterns and colours to look over, there's continually something to coordinate the necessities your home or office windows.
How Vertical Shade Works ?
          At the point when closed, they give security just as insurance from direct daylight as well as protect your privacy. Tilt them to an edge to join light and security or pull back totally for an away from the outside world. Our hardwearing and down to earth PVC vertical blinds are water-safe, which makes them perfect in hot situations, for example, kitchens and washrooms. They are easy to clean as well – simply wipe them!
99 Blinds offer a various types of Vertical Shade
          Our assortment of Vertical window blinds incorporates contemporary textures with fields, surfaces, and lively colours just as delightful whites, neutrals, and designed vertical shades. 99 Blinds offering available types of vertical shades in Dubai as below:
127mm Slat
89mm Slat
Sunscreen s
Blackout 
Motorised 
How do you get your Vertical Curtains while sitting at home ?
           Choosing window blinds that suits to your home or office could be very precarious; anyway our specialists would get you out with this. Examine; here are the means by which we work for you:
            Simply book your appointment. Here you can book online appointment
            Let us to complete the measurements and estimations 
            We will deliver your window blinds mostly in 48 hours