BLINDS IMAGES AND CURTAINS IMAGES PORTFOLIO AND IDEAS
Introduction To Blinds And Curtains Portfolio
If you're looking for a way to update your home, adding window blinds is an easy and affordable option. It can also be a great way to add personality to your space. There are so many styles and fabrics, so it's easy to find something that fits your taste and budget. Here are some tips, blinds images, and curtains images on how to choose the right ones.
Do you want to add beauty, warmth, and color to your home? Window blinds can be an easy way to do so.
If you're looking for an easy way to add beauty, warmth, and color to your home, window blinds can be an effective solution. They are made from various materials, including wood, PVC, and vinyl. With many styles available at 99blinds.com, there's sure to be a type of blind that will complement any room in your home.
Blinds also come in various colors and patterns for added style. In addition, you can choose from cordless or manual lifts or even motorized blinds so that they open automatically at the touch of a finger.
Regarding privacy, window coverings like shades can help keep prying eyes while keeping heat out during summer. while allowing natural light into the room during warmer months when you want more sunlight coming through windows without glare on computer screens or televisions set up near them."
You can use them to be creative or simply traditional. The choice is yours.
You can use them to be creative or simply traditional. The choice is yours.
Traditionally made to measure Venetian window blinds from wood or metal like iron and brass. They're very durable, as well as easy to clean and maintain.

Modern window blinds are made of acrylic plastic, which makes them lighter than traditional wooden ones. Some modern designs have a decorative pattern, such as stripes or dots! If you're looking for something more sophisticated, this might be the right choice!

Decorative window blinds come in many different colors, so there's bound to be something that perfectly fits your décor! You can choose from floral prints (for example, daisies), geometric patterns like triangles and squares, or even whimsical characters like elephants wearing hats! It all depends on what style best reflects who YOU are… literally!
Here are a few window blinds ideas for the interior design of your home.
Synthetic fabrics: If you're looking for a cheaper and more durable option, choose a synthetic material. These blinds come in various colors and patterns, which can easily match your existing decor.

Natural materials: Think about the feel you want your window to have before choosing wood or bamboo blinds for your home décor. Wood gives off warmth and coziness, while bamboo has a more modern look.

If you want something more traditional, consider woolen or silk curtains instead of fabric ones because they are more durable than cotton-based fabrics that get discolored over time due to heavy use (especially if they are exposed directly to sunlight)
Follow these tips for beautiful blinds and curtains ideas that will please your eye.
Choose the right blinds for suitable rooms.

Choose a blind that fits the style of your home.

Choose a blind that fits the style of your windows.

Choose a blind that fits the style of your furniture.
Window Treatment Ideas – Conclusion:
I hope this article has given you some ideas on decorating your home with blinds. Blinds can be a great way to add style and character to your room or house, but they can also be expensive if you don't know what you're doing. To avoid spending too much on window treatments, I recommend shopping around for an affordable place that sells high-quality products at reasonable prices, like Lowe's or Home Depot.
When shopping online for blinds, ensure that their return policy is good, so you don't get stuck with something unwanted! It's always best to try them out before buying them online because sometimes things look different when they arrive at your doorstep than what was advertised online (for example, color).
At 99blinds.com, we offer only authentic products and services with 100% satisfaction. To book a free home consultation, fill out the form and wait for our representative confirmation. We are the fastest window blinds and curtains supplier in Dubai.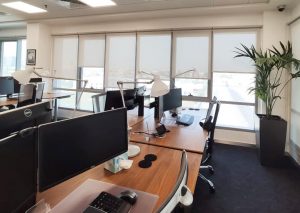 Sunscreen Roller Blinds Sunscreen Roller Blinds – Dubai Blinds Sunscreen roller blinds are an ideal answer for an office...
Read More