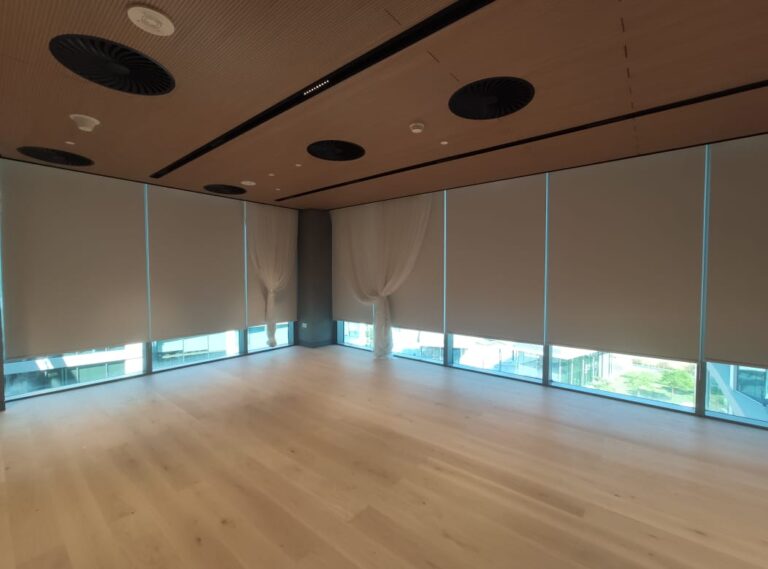 Roller Blinds in Dubai For Window Treatments
     Roller blinds are the most popular, conventional, and versatile window blinds in Dubai. Its primarily used to control privacy, heat generation, and light transmission into a home or office. Roller shades in Dubai come in three varieties 1: sunscreen or transparent, 2: Blackout or Dim out, 3: Translucent.
     Roller blinds are often known as Roller Shades, Roller Curtains, or sometimes as rolling curtains or roll curtains. The name roller comes because the fabric rollup and wrapped the aluminum metal tube to move up and down the shades with a controller and metal chain.
Custom Made To Measure Roller Curtains For Window
     Roller shades provide a timeless style to the window treatments and a wide range of colorful fabrics, textures, and patterns available. They are made to measure blinds and easy to install. 99Blinds offers made to measure rolling blinds in Dubai. Our roll curtains are popular among the homeowners, renters, restaurants, offices, and the villa in Dubai.
The key benefit of using roller shade for window treatments are
Roller blinds protect complete privacy.

They are easy to use and have a very minimalist design.

They are easy to clean, durable, and long-lasting

Available in almost any color and varieties texture options that suit your existing wall and furniture colors.

Roller curtains help to reduce heat generation from direct sunlight.

Henceforth, it blocks the harmful UV rays of sunshine.

They are cost-effective (cheaper than other window treatments) and readily available.
The basic idea of components to make the manually operated roller blinds.
A sunscreen or opaque/blackout fabric. Available in a variety of designs, patterns, and sizes in 99 Blinds.

Aluminum tube or aluminum casing to hand and roll the fabric

A swindler or controller, or control unit use to roll the shade up and down.

Metal or plastic chain attached to the control unit to pull up or down.

A plastic or aluminum bottom bar is used for bottom weight. The bottom bar gives a nice look as well as balances the fabric fall.

A pair of steel or metal brackets fix the wall or ceiling to hold the shade.
     A perforated fabric use to make sunscreen roller window covering—the materials are made of approximately 30% polyester and 70% PVC. The openness factor for a sunscreen fabric is 5%. The approximate weight of the fabrication per square meter is 525 ±5%. These types of perforated materials are used to control daylight, protect privacy, and reduce heat generation. Translucent fabric is also a kind of sunscreen fabric that is less transparent than a regular sunscreen fabric.
     An opaque material is used to make the blackout roller blinds. The openness factor of blackout fabrics are 1%—the fabrics are made of approximately 70% polyester and 30% PVC. If you are not like using PVC material, we have a 100% polyester fabric. The 75% PVC and 25% fiberglass fabric are best to reduce heat and harmful UV rays. The silver backing blackout roller shade is used to reduce heat generation from direct sunlight.
     Motorized roller blinds or Automatic roll shades, or electric roll curtains are perfect for making a room luxurious. Electric roller curtains use an AC wired motor or a battery-operated motor and turn the aluminum tube to roll up or roll down the fabric. Our AC-powered Somfy motorized roller curtains will bring the sensual and effortless window treatment option to your house. Our battery-operated wire-free motor work for a long time on a single charge. None the less they are cheaper in price than the AC-powered motorized shade. We provide five years warranty on our motor.
     There's considerably more to Roller blinds than you may suspect! Our Rolling blinds range loaded with energizing prints that will say something in your home, from present-day flower and theoretical examples to contemporary works of art and retro styles. 
     Roller blinds' scope is predominantly well known among homeowners as they add accommodation and flexibility to your way of life and inside stylistic theme. We have a broad roll curtains assortment containing different tones and plans and stylish functionalities like blackout roller curtains to guarantee total security. Transparent Roller curtains give a la mode filtration of light, and sunscreen or straightforward roller blinds offer much light while ensuring assurance from the sun's glare and beams. 
     There's additionally a grand scope of fields in striking tones, neutrals, whites, and creams, in addition to finished, sheer, and block out or dim-out textures as well. You can add style to your Roller shades with one of our formed bottoms and decorate with our selection of posts, eyelets, beaded trims, and plaits. To see the full scope of Roller blinds and find more about our current offers, make an in-home arrangement today in Dubai !